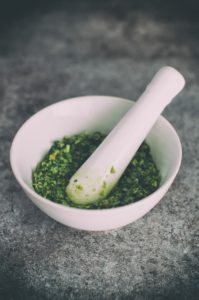 If you've ever made pesto, you know it usually takes Parmesan cheese, olive oil, garlic, pine nuts, and a whole lot of basil. Although it can be whipped up in a food processor, good pesto also is available on grocery store shelves. With a jar, you can top pasta, vegetables, sandwiches, eggs — or even meat and seafood.
– – – – –
If desired, you can sear the chicken before baking. While the oven is preheating, heat some olive oil or butter in a skillet. Once hot, add the chicken breasts and sear for 1 to 2 minutes on each side until caramelized. The chicken should still be raw in the center — it will cook as it bakes.
Pesto Chicken Bake
3 chicken breasts
1 6-ounce jar basil pesto
3 to 6 slices mozzarella cheese
2 medium tomatoes, sliced
Preheat the oven to 350 degree. Season chicken breasts with salt and pepper. Arrange chicken breasts (seared or raw) onto a baking dish or rimmed baking sheet. Use a spoon to cover chicken with pesto. Top each chicken breast with 1 slice of mozzarella cheese and 2 sliced tomatoes. Bake until chicken is no longer pink in the center, about 20 to 30 minutes. Broil the chicken the final 2 minutes so that the cheese is bubbly and golden. Serve immediately. Makes 6 servings.
– – – – –
Creamy Pesto Shrimp
1 pound uncooked linguine pasta
1/2 cup butter
2 cups heavy cream
1/2 teaspoon ground black pepper
1 cup grated Parmesan cheese
1/3 cup pesto
1 pound large raw shrimp, peeled and deveined
Bring a large pot of lightly salted water to a boil. Add linguine pasta; cook until al dente, about 8 to 10 minutes. Drain. In a large skillet, melt the butter over medium heat. Stir in cream, and season with pepper. Cook 6 to 8 minutes, stirring constantly. Stir Parmesan cheese into cream sauce, stirring until thoroughly mixed. Blend in the pesto; cook until thickened, about 3 to 5 minutes. Stir in the shrimp, and cook until they turn pink, about 5 minutes. Serve over the hot linguine. Makes 8 servings.
– – – – –
Pantry Pointers
When it comes to pesto, all it really needs is hot cooked pasta. Just put your pasta in a mixing or serving bowl; add pesto and stir to combine. To make the pasta silky and saucy, add some pasta water. Add a little at a time, adding up to about 1/4 cup.